Blog Follow These Trade Show Marketing Tips to Get More Qualified Leads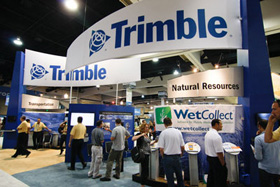 Although new marketing ideas such as social media, blogging, and YouTube are getting all the publicity and hype, trade shows continue to be an important marketing channel for many organisations.
Trade shows give you great opportunity to engage with your prospects and partners face-to-face, acquire qualified leads, get media coverage, and increase your brand visibility.
However, without proper planning and execution, you could flush a lot of your marketing dollars down the drain without getting the results you want.
To get the most out of tradeshows, a well executed plan that addresses your marketing activities before the show, during the show, and after the show is paramount to your success.
Here are some tips to help you run a successful trade show promotions:
#1: Choose shows wisely
Trade shows cost lots of money. So do your research and choose shows wisely! Find out the profile of attendees by talking to the show organizer. Make sure your target audience for your products or services is well represented.
If the show is affordable and can expose you to your target audience, then you definitely have the green light to choose that show.
Once you have found a show that fits your requirements, inform and invite your prospects to visit your booth through personal phone calls, post cards, emails, your company blog, and social network sites (facebook, twitter, LinkedIn, etc).
The notification and invitation should be sent out 2-4 weeks in advance of the event. Also, you could further entice your prospects to visit your booth by mentioning your trade show giveaways.
#2: Selecting the right Staff and Training them
Your staff represents your brand and your company. Their actions and professionalism at the show are keys to drawing attendees to your booth, creating a positive impression on the prospects, and getting high quality leads. As such, selecting the right staff and properly training them are critical to your success:
Select people that have friendly and engaging personality and a little bit aggressive. Also, ensure that they are knowledgeable about the products and services and can provide intelligent responses to attendees' questions.
Staff needs to be trained on what and how the sale messages should be delivered and how to qualify the prospects by asking the right questions. Attendees that don't meet the profile of your potential clients should quickly, but politely be dismissed.

For prospects that fit criteria of potential clients, you staff should engage them, giving them product demos, and answering questions related to your products, services, or company.

Finally, in addition to collecting the contact information, your staff should ask for information that will help Sales determine the quality of the lead. This information is critical for the follow up process.
#3 Choose Meaningful and Useful Promotional Giveaways
This is a critical step, which lots of companies overlook. Most organisations make the mistake of giving out "cheap" promotional items, which could tarnish your brand image.
Don't underestimate the power of effective promotional giveaways. The right promotional item endears your brand to your prospects and helps boost awareness and visibility for your brand.
Your choice of promotional giveaways should meet the following criteria:
They must be high quality and have practical uses - a high quality and useful promotional item will be appreciated by the recipients and give your brand a good image.
They must have long service life – If the recipients can use the product for years to come, your brand gets repeated exposure at zero cost to you!
They must have large and prominent brand areas for you to print your logo, marketing message, and contact information.
Among the myriad of promotional items, branded USB flash drives are the few that meet the above requirements. As such, USB flash drives have become the hottest promotional items in recent years.
Different models of customised USB flash drives
Benefits of using USB flash drives as promotional giveaways:
In today's digital age, USB flash drives are very practical and are commonly used to store/copy/transfer photos, videos, music, and other digital content. They also have a long service life, which gives your brand repeated exposure for a long time to come.
USB flash drives come in many different styles and storage capacities to suit your promotional requirements. Popular styles include credit card USB, wood/bamboo USB (if you want to promote an eco-friendly image), key USB, lanyard USB, flash pen USB, etc.
USB flash drives have prominent branding areas for you to imprint or engrave your logo, business slogan, and contact info.
One additional benefit that is unique to USB flash drives is the ability to preload the drives with your marketing presentations, product datasheets or catalogs, videos, or anything you can think of to get your marketing message across.
Furthermore, when purchased in bulk, USB flash drives becomes very affordable!
#4: Have a Post Show Plan to Follow Up with the Leads
Even though you might have done a fantastic job at the show, your work is not done yet! All those efforts would go to waste if you don't have a well planned post show plan to follow up with your leads.
First, you should have a system in place to rate the quality of each lead. The qualified leads should then be handed off to Sales for follow up.
Don't wait too long to follow up on the leads though. Your sales staff should send emails and call your leads immediately after the show (within a week), while your prospects still have you fresh in their minds. You may also want to send personalized handwritten notes to thank them for visiting your booth and include your catalog, brochure, or other appropriate marketing materials.
Being proactive in trying to engage and connect with your prospects throughout can distinguish you from your competitors and give you a better chance of turning those leads into lifetime clients.
#5: Conduct Post Show Review With Staff
Finally, you should conduct post-show review meeting with your staff to share experiences and document lessons learned. These notes should be used to improve the results of your next trade show promotions.
I hope the above tips will help you run a better trade show promotions and get the results you want. Good luck!